Dear Ultrarunning Friends,
We are sorry to announce that the UrB24 will not take place.
Since it was started in 2021, during the pandemic time, the UrB goal was to organize a different race than december's #24hores, with less participants, with no relay teams to have different lanes for the faster runners and for the not so fast ones, since we want them all to run with greater comfort and space, and less overtakings.
RFEA (Spanish Federation), which seemed out of touch with Ultrarunning, submitted this kind of competition to requirements and therefore implementation became economically impossible, to offer the good quality that the participants deserve.
As you already know,the Associació Esportiva Corredors.cat organize UrB and #24hores, we are a non for profit organization, all the organizers and the collaborators on the race weekend are volunteers who dedicate our efforts for the charity cause that we annually choose.
If there's a negative balance at UrB, we need to subtract the cost to the charitable contribution. The conclusion to the debate among the organizers is that it makes no sense that this amount of money goes to a Federation that is not really working for the ultrarunning, instead to the families of children with cancer (this year the donation will go to Afanoc).
So far, we keep the 20th edition of 24 hores d'Ultrafons en pista de Barcelona in the RFEA international calendar and with the IAU label, but we need to debate a greater depth about the future of the competition. 
If you want to give us your considerations, you can do it publicly on this instragram post or you can send us an email at info@urbarcelona.com
Best regards,
UrB organization team
Gabriel Andrei Ailenei in the men's category and Line Caliskaner in the women's category, winners of the 24-hour competition
Iñaki Jimenez and Malgorzata Pazda-Pozorska winners of the 12 hours
Manel Deli and Albane Sabatier winners of the 6 hours
Records of Spain and Romania of 6 hours and 50 miles
Manel Deli and Robert Hajnal break the respective national records of 6h and 50 miles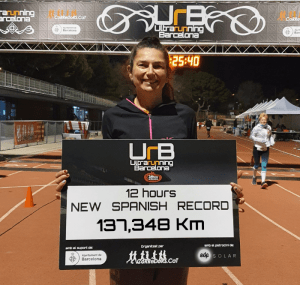 Carmen María Pérez Serrano new Best Spanish Performance of 12 hours: 137,348Km
Emotional tribute to Domingo Catalan
On Saturday 26 of february, before the start of the competition, the organization paid tribute to the ultra-distance pioneer in Spain, double 100Km world champion, unofficial 100Km world record holder and 6-time 100Km Spanish champion, Domingo Catalan.